There is a blog on this site that mostly mirrors comments. My actual blog can be found here at Argo City Comics.
I wouldn't be doing this if other webcomics hadn't inspired me. Here are some links to my favorites.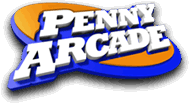 http://www.questionablecontent.net/
Wow! +EV is back! after 10 months, I'd pretty much given up. It's great to see this strip back up. The Poker theme is a lot of fun and a refreshing change from all the comic and video game themed strips that are all over the place (mine included)
COMIC FURY FRIENDS
It took like a year an a half before I really started interacting over here at the webhost, but the more I do, the more cool strips I keep running into. These are the people who cartoon because they really love it and it's always worth a minuet of your time to check out thier strips.

You can frequently find me over at "Whose Line is it Anywhoo?". The author throws out a punchline and the artists create strips around the suggestion. Violent Blue characters also appear over there in color.

I discovered Brick during an update. I dig Lego comics sometimes, but Brick stands out because his humor is twisted in the same direction mine usually is, and with the CG nature of the comic, the possibilites are infinite

Worse is a Star Wars parody with it's own feel to it. They don't necessaily go down the expected paths that Star Wars humor usually does, and that keeps things interesting.

Wierd blocky characters with an attitude. A trio of misfits in the cartooning world
A lot of fun.

I don't know if Steve from Violent Blue actually reads webcomics, but if he did, I bet he'd give this one a try.

This kind of appeals to my Gothic sensibilities and reminds me why I used to be into Anime.